I absolutely love making my own Whole30 beef jerky. After always being so intimidated by the thought of dehydrating something, I took the leap and began experimenting. I think what really motivated me to make my own jerky was the fact that I was in complete control of the ingredients, the cut of beef and most importantly, the amount of money I would save. You can check for Oven dehydrated whole30 peppery beef jerky recipe in 2023
You do not need to own a food dehydrator to make beef jerky.
The first thing people usually say when I tell them I make my own beef jerky is, "Well, I don't have a food dehydrator so I can't make that." Wrong – You can. Your oven can dehydrate food by setting the cooking temperature to around 200° F. This method works seamlessly (and I've made plenty of beef jerky in the oven – so count on that!)
My preferred method to cook beef jerky in the oven.
I've tested several ways and this method, although it sounds odd, works great. You see, when I first began experimenting with this recipe, I placed the sliced meat onto a baking sheet with wire rack. Don't get me wrong, this works, but it's not the best method. I found that as the fat would render, it would pool onto the meat and when it would cool – so would the fat. (Not the most appetizing) So, I had to think of something that could prevent that from happening – and this is what happened.
Line a baking sheet with til foil or parchment paper for easy clean up. Then, using toothpicks, pierce one end of the slice of beef and set aside. Continue on until all slices of beef have a toothpick in them. Take your slices over to your preheated oven and hang the slices on your oven rack. You will want to position the oven rack quite a bit higher than your baking sheet. The baking sheet is designed to catch any drippings or fat that renders from the beef. This way, once the jerky is completely dehydrated, there will be no fat left. Works like a charm!
I can't wait for you to try making this Whole30 Beef Jerky. Let me know if you do and how it turns out.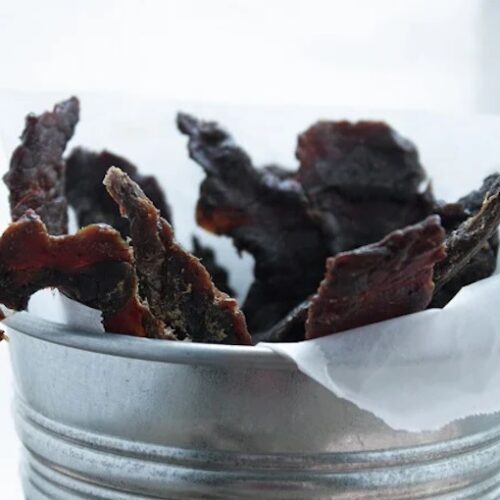 Peppery Beef Jerky
Ingredients
Ingredients

1½ - 2

pounds

lean steak flank or sirloin work great

1

cup

coconut aminos

1

tablespoon

black pepper

1

tablespoon

red pepper flakes

1

teaspoon

garlic powder

1

teaspoon

onion powder

½

teaspoon

salt
Instructions
In a large mixing bowl, add coconut aminos, black pepper, garlic powder, onion powder, salt and red pepper flakes. Stir to combine.

Trim large areas of fat from steak and discard. Slice steak into 1/4 inch slices. (The thicker the slices, the longer the dehydration process will take.) Add strips of steak to marinade and refrigerate for 1 to 24 hours.

Preheat oven to 225°F.

Remove steak from marinade and lightly pat with paper towel removing excess marinade. Using toothpicks, pierce each strip of steak towards one of the ends and leave toothpick in each strip of steak. Continue until all pieces of steak have a toothpick pierced through one of their ends.

Place a lined baking sheet on oven rack towards the bottom of oven. Move other oven rack towards the top. Using the top oven rack as support, hang each strip of steak thorugh the racks using the toothpicks. The meat will hang above the baking sheet allowing excess fat to drip off.

Dehydrate on 225°F for 10 minutes and then reduce oven temperature to 200°F. Dehydrate for 4-5 hours until meat is dried completely.

Store at room temperature in a cool, dry environment for up to 2 weeks.
Notes
Leave out red pepper flakes if desired.
I hope you like reading on Oven dehydrated whole30 peppery beef jerky recipe in 2023.