This easy, Dutch Oven Whole30 Beef Roast Recipe is perfect for those cold winter nights when you are craving something warm and comforting. Best of all, it requires minimal prep and tastes as though you've been cooking all day long.
What if I don't have a dutch oven?
I highly recommend a dutch oven if you don't have one. You can checkout my braised short rib recipe  where I talk about the one I own. Not to worry though – you can easily convert this over to a slow cooker. I've included the instructions for using a slow cooker in the notes of the recipe.
Check out our Easy Dutch Oven Whole30 Beef Roast Recipe
Let's get salty.
It's important to generously season the roast prior to searing. It may appear like a lot of salt is being used, but you are seasoning a large piece of meat. Be generous when seasoning your roast. You are adding the first layer of flavor to your roast and it's important that it's seasoned well right from the beginning.
Do I really need to sear each side of the beef roast?
Admittedly, it is not necessary to sear the roast prior to placing in the oven – but here is why I highly recommend doing so. First, you create a crust around the meat that adds an abundance of flavor. You will be able to tell the difference when all is said and done. Also, you will create fond, better known as the brown, caramelized drippings in the bottom of the pan. These will flavor your entire dish and should not be thrown out. Any liquid or fond stays in the dutch oven throughout the entire cooking process. Completing this step of the process is so important and you will be happy in the end – I promise.
I hope you give this Easy Dutch Oven Whole30 Beef Roast Recipe a try. If you are looking for another great dutch oven recipe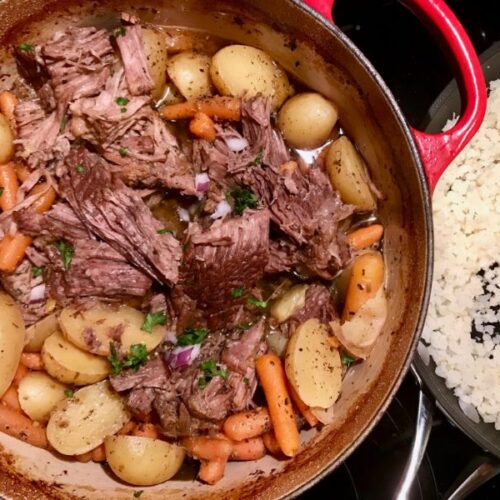 One-Pot Whole30 Beef Roast
This
simple
, one-pot meal, is perfect for when you want something comforting without the hassle of spending all your time in the kitchen. The minimal prep work is well worth the wait. I use a dutch oven for this recipe but you could easily make this in the slow cooker.
Ingredients
1 3

lb

beef roast

1

tablespoon

olive oil extra virgin

1

white or yellow medium onion

1

cup

mushrooms halved

5

whole carrots peeled

1

lb

fingerling potatoes or potatoes of your choice

4-6

garlic cloves

8-10

ounces

beef bone broth

2

tablespoons

tomato paste

2

tablespoons

coconut aminos

2

sprigs fresh thyme or 1 tsp dried

1-2

tablespoons

coarse salt less if using finer salt

1-2

tablespoon

black pepper

1

tablespoon

fresh parsley
Instructions
Remove roast from refridgerator and leave covered on countertop for 30 minutes.

Once roast has rested on countertop, preheat oven to 350° F and stovetop to medium high heat.

Place dutch oven on stovetop and add olive oil. Uncover roast and generously salt and pepper each side of the roast.

When dutch oven is up to temperature, sear each side of the roast until there is a crust on each side of the roast. Remove and set aside on a plate or cutting board.

While roast is searing, prepare your vegetables by rinsing them in cool water. Slice mushrooms in half, peel and cut carrots into large chunks (I like to cut mine at an angle for presentation) and cut onion into medium sized pieces. Leave fingerling potatoes whole. If you are using a different type of potato, cut into manageable sized pieces so that they cook evenly.

Turn stovetop temperature down to medium and add onion, mushroom and carrots. Sautee until the onions become slightly translucent. Peel and add garlic cloves (I prefer to leave them whole but you can smash or mince them up) and tomato paste. Stir.

Optional step: Add some Oomph Cooking Blends to your base for some added flavors. I recommend their Number 1,2,3 or 8 for this recipe. (www.oomphcooking.com)

Create a small space in the vegetables using a spoon and nest the beef roast on top of the vegetables. Add beef bone broth and potatoes. Season with salt, pepper and thyme then drizzle over coconut aminos.

Cover dutch oven and place into preheated oven for 2 hours. Remove lid after 2 hours and check moisture level, adding more broth if needed. Cook uncovered for additional 30-45 minutes until roast falls apart easily and potatoes are fork tender.

Remove from oven and allow to rest. Chop parsley for garnish when serving.
Notes
Any type of potato should work for this recipe. If using something other than fingerling, chop them into large, equal-sized chunks.
Don't have beef broth? Use vegetable broth or even chicken broth instead.
Easily convert this recipe over to your slow cooker. Sear roast on the stovetop and then place all ingredients into your slow cooker. Cook low for 8-10 hours or on high for 5-6 hours until meat falls apart and vegetables are fork tender. (Times may vary depending on your slow cooker)
Hope you try making this recipe for yourself and when you do, tag me on Instagram @apinchofpride, so I can say hello and see what else you're making!