It's to nobody's surprise that breakfast and brunch are my favorite meals of the day. I love preparing this simple, open-faced Broccoli & Bacon Omelet Recipe as a great meal to start my day that includes healthy ingredients and a ton of flavor. They are so easy to prepare and you can use whatever ingredients you have on hand. For mine, I love broccoli, bacon and fresh tomato.
This recipe easily makes up to 2 servings. If you are not currently sticking to a Whole30 or other diet, serve with a piece of bread or toast for an added layer of texture to your meal.
Looking for a great non-stick pan?
If you're looking for some great non-stick pans that are affordable and can stand up to daily use, I love the different sizes and they clean up so nicely. They are perfect for when I make my simple, open-faced Broccoli & Bacon Omelet Recipe in 2023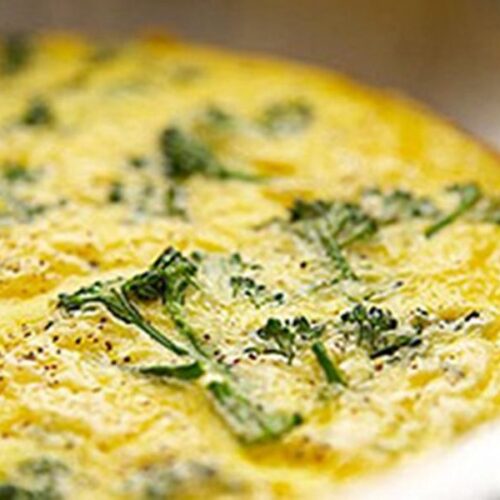 Simple, Open-Faced Broccoli & Bacon Omelet
This Whole30 omelet is simple and quick to make. Easily personalize by switching out your favorite protein, veggies and herbs.
Ingredients
2

strips bacon save some of the bacon fat

½

cup

broccoli florets

½

cup

egg whites

2

eggs

2

slices

tomato diced

¼

tsp

salt

¼

tsp

black pepper

¼

tsp

red pepper flakes

1

tsp

fresh dill

hot sauce if desired
Instructions
Fry bacon in a non-stick skillet on medium high heat until preferred doneness. (I like mine crispy). Set bacon strips aside on paper towel and remove all but 1 tablespoon of bacon fat.

Decrease temperature to low and add broccoli florets and cook until about halfway to three quarters done. Add egg whites and crack 2 eggs over top.

While egg whites are cooking and firming up, chop bacon and sprinkle over top of egg whites. Season with salt and pepper. Cook until cracked eggs whites are firm and yolks are to desired doneness. About 10 mins. Dice tomato and set aside.

Using a spatula, make sure the omelet will easily release from pan. When it's done, it should easily slide off the pan and onto a plate.

Add fresh diced tomato, dill and red pepper flakes. If desired, add some of your favorite hot sauce. Enjoy!
Notes
Easily swap out with your favorite ingredients to personalize this dish. Easily serves 1-2. Would be great with a side of toast or soft bread.
Hope you try making this recipe for yourself and when you do, tag me on Instagram @apinchofpride, so I can say hello and see what else you're making!