This Simple Make-Ahead Bacon Wrapped Green Beans Recipe is sweet, spicy and full of rich flavor. You can quickly prepare them for dinner or make them ahead and pop them in the oven while preparing your main course.
Get it right, wrap it tight.
When you wrap your bundles, only use about 8-12 green beans. You'll want to wrap the bundles so that the bacon strip wraps snugly around the green bean bundles approximately 1.5-2 times. If it doesn't, when the bacon is in the oven it will unravel.
Does the thickness of the bacon matter?
Yes and no. There are other recipes out there that say to avoid using thicker cut slices of bacon. Um no. I prefer using thicker slices because the fat that renders off the bacon seasons the green beans and when wrapped properly, holds the beans in place very well. The bacon gets super crispy and the bottom of the bundles get this crazy good crust. In my opinion, thicker is better, but you can certainly make this using thinner slices of bacon. Just pay a bit more attention to how crispy your bacon is getting and maybe reduce the roasting time by 5-10 minutes depending on your oven.
Let the bundles cool slightly before serving.
When the bundles come out of the oven, set aside to cool for about 2-3 minutes. This will give the bacon a few moments to setup and become sturdier, keeping your bundles together rather than falling apart. I like to use a spatula to lift the bundles from the sheet pan rather than kitchen tongs. The bottoms of the bundles get nice and crispy and should easily lift from the baking sheet.
Try making this Simple Make-Ahead Bacon Wrapped Green Beans Recipe and comment down below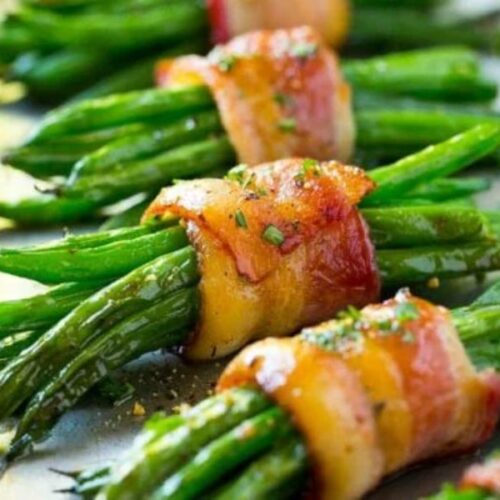 Bacon Wrapped Green Beans
A simple side that is sweet, rich and spicy.
Ingredients
½-¾

pound

green beans trimmed

6

bacon strips

3

tablespoons

coconut aminos

¼

teaspoon

salt

¼

teaspoon

black pepper

½

teaspoon

red pepper flakes
Instructions
Preheat oven to 425°

Wash, dry and trim green bean ends. Set aside.

Lay one strip of bacon down and bundle about 8-10 green beans in your hand. Place green beans on top of the strip of bacon on one end and roll strip of bacon around the beans. Strip of bacon should wrap around the bundle of green beans approximately 1.5-2 times.

Place bacon wrapped green beans onto an ungreased baking sheet. Roll the remaining bundles and place on baking sheet.

Drizzle over 2 tablespoons coconut aminos and season green beans with salt and pepper.

Bake for 25 mins or until bacon is crispy and green beans are slightly blistered.

Remove from oven and set aside for 2-3 minutes. Drizzle with remaining tablespoon of coconut aminos and spinkle with red pepper flakes.
Notes
Use compatible bacon to make this Whole30.