I recently purchased a dutch oven for making this Braised Short Ribs Recipe and absolutely love it! I wanted something that I could use in the oven to cook roasts different types of meats for hours. I love my pressure cooker, but there is something about a dutch oven that fills your home with the best smell and makes your meal feel extra special.
I recently purchased the Staub Cast Iron 4 qt. Cocotte. It's been a great tool to have in the kitchen and is the perfect size for the two of us. Typically, I just leave it out on the stovetop because it's used so frequently and I love the aesthetic.
This Braised Short Ribs Recipe is so simple to prepare and once you do, you literally just need to set it into the oven and let it go. The short ribs become tender and juicy and the liquid reduces into a rich, creamy sauce that is perfect for drizzling over a pile of mashed potatoes. 
But what about the wine?
You can absolutely substitute the grape juice for wine. I love cooking with wine, but while completing a Whole30, alcohol is not compatible on the program. Grape juice is the perfect workaround. It gives the sauce a rich and luxurious layer of flavor that really sets this dish apart. Don't like grape juice? Try pomegranate.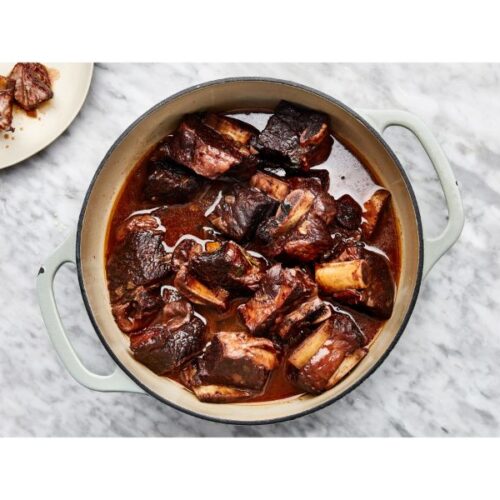 Braised Short Ribs
These braised short ribs are perfect for a cold day and will have your entire house smelling great. The liquid reduces into a luscious sauce that is great served over a mound of mashed potatoes.
Ingredients
Instructions
Preheat oven to 375°

Preheat dutch oven to medium-high heat on the stovetop and add 1-2 tablespoons olive oil.

In a medium sized mixing bowl, season spare ribs with salt and pepper and lightly coat with tapioca starch. Add to dutch oven and brown all sides until crust forms. Remove from dutch oven and set aside.

Peel and chop carrots into large chunks and add to dutch oven along with pearl onions. Sauté for 5 minutes, stirring occasionally. Add whole garlic cloves and sauté for another 2 minutes. Add beef broth, grape juice, coconut aminos and tomato paste and stir until the tomato paste becomes incorporated.

Add spare ribs into the dutch oven on top of the carrot and onion mixture. Add springs of thyme and rosemary and cover dutch oven.

Set dutch oven onto the middle rack of a hot oven and bake for 2 hours and 30 minutes or until sauce has reduced and thickened.
Hope you try making this recipe for yourself and when you do, tag me on Instagram @apinchofpride, so I can say hello and see what else you're making!