This Whole30 Velvety Fondant Potatoes Recipe is so worth making – the perfect side dish on your Whole30. This recipe absorbs so many incredible flavors and is crispy on the outside yet rich and tender in the center. This recipe is featured in the 2020 New York Times Best Seller, "Cooking Whole30" cookbook.
For this recipe, try to stick to using russet potatoes. Many of you have asked about substituting sweet potatoes, but in all honesty, they just aren't as good. Russet potatoes are more porous than sweet potatoes which means they will soak up more of the chicken stock, ghee and garlic flavors. I find they also crisp up nicer than a sweet potato does. So, when preparing your grocery list, go russet.
Preparing the potatoes is important in this recipe. First, make sure to scrub and rinse your potatoes. When slicing, it doesn't have to be a perfect hexagonal cylinder – that's all aesthetic. Making them uniform in size, however, is relatively important so the potatoes cook evenly and at the same rate of time. Soaking your potatoes for 5 minutes is also a key step in this recipe as it removes a lot of the starch and will get your potatoes nice and crispy.
Why a cast iron?
If you don't have a cast-iron pan, I highly recommend grabbing one. They are perfect for searing on the stovetop and then transferring to the oven. This Whole30 Velvety Fondant Potatoes recipe is the perfect example.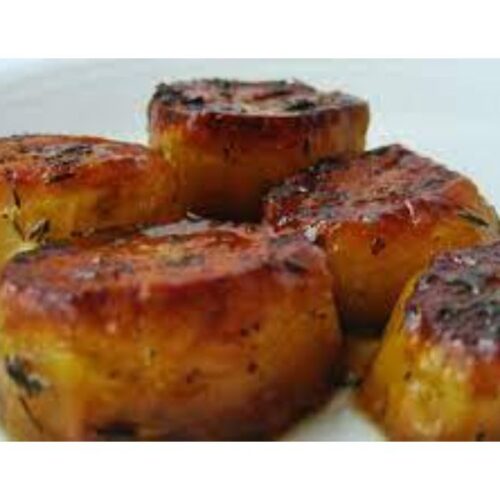 Velvety Fondant Potatoes
These decadent potatoes have a crispy crust and creamy inside texture. The flavors of the ghee and chicken broth are absorbed throughout the potatoes with hints of garlic and thyme. This fan favorite is perfect for your dinner parties or for a
simple
night in.
Ingredients
6

medium russet potatoes

3

tablespoons

avocado oil

3

tablespoons

ghee

4

garlic cloves

3-4

sprigs fresh thyme

½

cup

chicken broth

Salt and pepper to taste
Instructions
Scrub potatoes under cold running water then pat dry using paper towel.

Cut ends off the potatoes and stand potatoes upright. Using a knife, peel from top to bottom creating uniform cylinders. Cut cylinders in half (crosswise) to make 12 potato cylinders, approximately 2 inches tall.

Soak potatoes in cool water for 5 minutes to remove excess starch. Drain and pat dry.

Preheat oven to 425°F.

On the stovetop, preheat a cast iron pan to medium heat and add oil. Stand potatoes upright and cook about 5 minutes or until bottoms are browned. Flip and repeat on opposite end. Using a paper towel, blot excess oil from pan and turn off heat.

Add ghee, whole garlic cloves, sprigs of thyme and lightly season potatoes with salt and pepper. Using the sprigs of thyme, brush ghee over potatoes. Cook for 2 minutes and then add chicken broth to the pan.

Before transferring cast iron pan to oven, remove sprigs of thyme. Roast in oven for 30 minutes, adding additional chicken broth if pan becomes dry. Use knife to check that potatoes are tender.

Cool slightly before serving and garnish with fresh thyme and flaky sea salt.
Notes
Tip: Russet potatoes work best since they crisp up nicely and have a light, fluffy interior to soak up maximum flavor. There should be hardly any chicken broth left in the pan after roasting.
Hope you try making this recipe for yourself and when you do, tag me on Instagram @apinchofpride, so I can say hello and see what else you're making!