Tuna Noodle Casserole was a favorite growing up, but it was typically made using noodles and a dairy-based soup that didn't necessarily leave me feeling well. After adapting more of a paleo and Whole30 style of eating, I wanted to recreate a healthier spin on this comfort classic. It's simple to make and is a great option for those who desire a lighter version of their favorite comfort classic.
A dairy-free cream of mushroom base.
This dairy-free mushroom sauce is so good, you won't believe how great this tastes and that it's Whole30! It's full of seasonings, garlic, and mushrooms and holds up well after being baked in the oven. It thickens nicely and tastes so good with the tuna and zucchini. You could also use this sauce in other dishes. How great would it be with spaghetti squash or over chicken and cauliflower rice? It's absolutely versatile.
What if I don't have a spiralizer?
Not to worry. You can still make this tuna casserole without a spiralizer. Have a vegetable peeler? Use that. Want to practice your knife skills? Do that. Slice zucchini into thin strips resembling noodles. It will work perfectly.
Check for our Best Dairy & Grain- Free Tuna "No-Noodle" Casserole and do comment below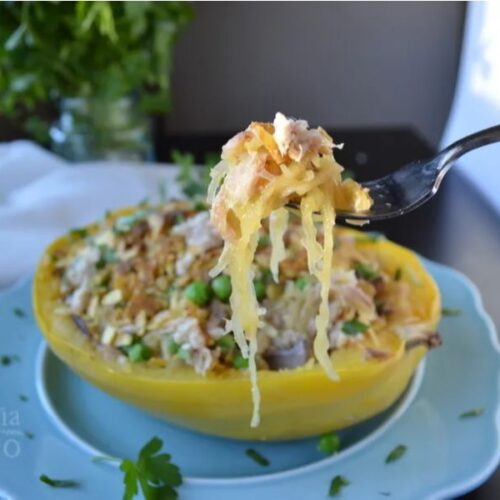 Tuna "No-Noodle" Casserole
Whole30 version of a classic casserole.
Ingredients
10

ounces

albacore tuna

2 cans

2

cups

frozen hash browns

2

medium zucchinis

1

cup

frozen pea and carrot blend

¼

cup

coconut milk

1

cup

chicken broth

1

cup

raw cashews

1

cup

fresh mushrooms

3-4

garlic cloves

1

teaspoon

onion powder

¼

teaspoon

salt

¼

teaspoon

ground black pepper

1

pinch

cayenne pepper
Instructions
Preheat oven to 375°F and grease a medium sized baking dish.

Using a spiralizer or vegetable peeler, spriralize zucchini and add to colander. Sprinkle with salt and allow to sit for 5-10 minutes, removing excess water. Rinse and pat dry with paper towel. Using a kitchen shears or knife, cut zucchini into shorter lengths so you do not have one continuous zucchini ribbon.

In a large mixing bowl, add tuna, hash browns, frozen pea and carrot mixture and spiralized zucchini.

Using a high speed blender, blend together coconut milk, chicken broth, raw cashews, garlic, onion powder, cayenne, salt and pepper. Once combined, add 1/2 cup of the mushrooms and pulse until roughly chopped.

Pour sauce over ingredients in the large mixing bowl and gently fold until evenly coated. Transfer to greased baking dish and bake 45 minutes and sauce is bubbling. Broil on high for 2-3 minutes if desired.

Garnish with parsley and season with salt and black pepper.
Notes
Don't like peas? Use any frozen vegetable that you like or completely leave it out.
Broil on high for the last 2 mins of baking if desired.
Hope you try making this Best Dairy & Grain- Free Tuna "No-Noodle" Casserole recipe for yourself and when you do, tag me on Instagram @apinchofpride, so I can say hello and see what else you're making!