Glazed Balsamic Bacon Brussels sprouts Recipe are my favorite recipe and I know exactly why. Growing up, we would eat Brussels sprouts, but they were nothing like how I prepare them today. Back then, they were frozen and placed in the microwave or blanched in boiling water. By the time they made it to the dinner table, they were slathered in butter and salt and tasted like leafy, watery mush.
Fast forward 20 years after being reintroduced to them, I was shocked to discover they were nothing like I remembered. When it comes to Brussels sprouts, fresh is always better! Yes, they do take a little bit of time to prepare, as in, you need to clean them up a bit, but I've learned to really enjoy it. It's almost meditative now. I slice mine in half after cleaning them and roast them in the oven with red onion. Drizzle over balsamic vinegar and throw in some crispy bacon for one of the best side dishes ever.
Where can I find Whole30 compatible bacon?
Now, many people ask what kind of bacon I use that is compatible on Whole30. Jalapeño and Chipotle are my favorite flavors – check them out for a great Whole30 option.
Check out our Glazed Balsamic Bacon Brussels sprouts Recipe in 2023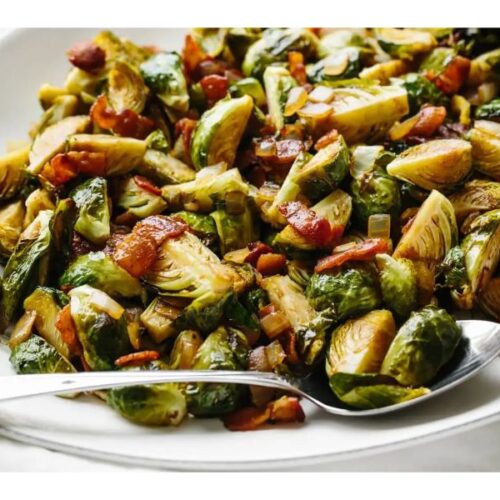 Glazed Balsamic Bacon Brussels Sprouts
This recipe is my favorite Brussels sprouts recipe – I make no other. It is always well received amongst family and friends and the best part is - it's so incredibly
simple
to prepare. The rendered bacon fat and balsamic vinegar combine creating a thick bacon glaze.
Ingredients
3

cups

fresh Brussels sprouts

5

strips bacon I used Naked Bacon

½

cup

red onion

sliced

1

tablespoon

avocado oil

6

dried Szechuan peppers

3

tablespoons

balsamic vinegar

salt and pepper to taste
Instructions
Prepare the Brussels Sprouts:

Preheat oven and baking sheet to 425°F.

Clean and halve Brussels sprouts and toss into a large mixing bowl. Slice red onion and add to bowl. Drizzle avocado oil and sprinkle with salt and pepper. Toss until lightly coated.

Once the oven is preheated, remove baking sheet and pour Brussels sprouts onto pan. Lay face down to achieve maximum caramelization. Roast for 20-25 minutes until crispy yet.

Prepare the balsamic glaze:

Preheat a pan to medium high heat on the stovetop. Slice bacon into bite sized pieces and add to hot pan, cooking until crispy. Drizzle balsamic vinegar and add dried Szechuan peppers to the bacon and bacon fat. Cook for 1-2 minutes until slightly reduced and thickened.

Remove roasted Brussels sprouts from oven and place in large mixing bowl. Toss with balsamic bacon glaze and serve immediately.
Notes
Tip: Crush 1-2 of the dry Szechuan peppers for added heat or easily substitute with red pepper flakes. Or leave out entirely.
Hope you try making this recipe for yourself and when you do, tag me on Instagram @apinchofpride, so I can say hello and see what else you're making!