Growing up, my mom used to always make grilled pineapple marinated chicken. It was always one of our favorite meals as kids and she still makes it to this day. As I've gotten older, I recreated the recipe to accommodate for some of my tastes and dietary preferences. This Whole30, grilled pineapple marinated chicken recipe is sure to be a fan favorite and is so simple to make.
Specific ingredients I swapped to accommodate to my dietary preferences.
The two main ingredient swaps I made were the use of olive oil instead of canola oil and coconut aminos rather than soy sauce. I wanted to make this recipe Whole30 and knew that I would need to make those adjustments. (And in my honest opinion, feel that it tastes better.) My favorite brand of coconut aminos is from The New Primal, which you can find here. They are incredible. You can also use my discount code APINCHOFPRIDE at checkout!
I also made a small adjustment to the canned pineapple that I used. Many canned fruits have added sugars or other ingredients. If Whole30, you'll want to read the labels and make sure there is not any added sugar to the fruit juice. Here is one brand that I love, it's simply organic pineapple and organic pineapple juice.
Can you marinate the chicken for too long?
So here's the thing with this marinade … the longer, the better. I understand that not everyone wants to meal prep and think about what they are going to eat 24 hours from now, but let me tell you, marinating overnight is going to give you the best results.
Needless to say, I have totally prepared this recipe in the morning and let it marinate for 6-8 hours prior to eating it for dinner – still great. You're just going to get an abundance of more flavor the longer you let it sit covered in the refrigerator.
What I serve alongside the Grilled Pineapple Marinated Chicken.
If I'm not on Whole30, I typically serve mine with white rice and pile it with sliced marinated chicken, grilled pineapple and green onions. If I'm on Whole30, then I avoid the rice and make mashed potatoes or my Whole30 Herby Potato Salad. It's also great in a salad or just on it's own for a protein snack.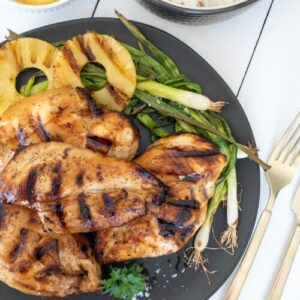 Whole30 Grilled Pineapple Marinated Chicken
This marinade is so good and perfect for batch cooking while on Whole30. The longer you marinate, the better with this recipe! Prep Time 10 mins Cook Time 15 mins Resting Time 10 mins Total Time 35 mins Course: Main Course Cuisine: American Keyword: main course, whole30 Servings: 4
Ingredients
Ingredients

4

chicken breasts boneless

skinless

I can pineapple rings sugar free

with juice

½

cup

coconut aminos

2

tbs

olive oil

1

tsp

garlic powder

1

tsp

onion powder

1

tsp

salt

1

tsp

black pepper
Instructions
Instructions

In a large mixing bowl, add chicken breasts.

Add all ingredients to the mixing bowl, making sure chicken breasts are fully covered. When adding pineapple juice, add all of the juice, but not the actual pineapple rings.

Mix all ingredients together, I like to use my hands.

Cover the mixing bowl with plastic wrap and refridgerate for at least 6 hours, up to overnight.

Before grilling, briefly set on paper towel or remove excess marinade prior to grilling. Grill until internal temperature is 170°F. Allow chicken to rest for 10 minutes prior to slicing.

Grill pineapple rings and green onions and serve everything over rice (if not on Whole30.)
Notes
Notes
Marinate chicken for at least 6 hours. For best results, marinate overnight up to 24 hours.
I hope you like reading on Whole30, grilled pineapple marinated chicken recipe. Hope you try making this recipe for yourself and when you do, please let me know in comments.