One of my favorite meals is charbroiled steak, cooked rare (because there is no other way to eat a steak) alongside this incredible chimichurri. This Whole30 Spicy Steak Chimichurri is such a fantastic dish that not only looks beautiful – it tastes beautiful, too! It's spicy, acidic and pairs perfectly over steak … some veggies … roasted potatoes … the list goes on and on.
How I like to prepare the perfect Whole30 steak.
I typically sous-vide our steaks first before searing them on the grill. Sous-vide is a cooking method that involves cooking food slowly in hot, circulating water. It's foolproof because you can cook to your desired temperature and not have to worry about overcooking. (Most sous-vide systems connect to your phone via Bluetooth so you're in total control.)
Sometimes I like to add a little olive oil, salt and pepper to the bag. Add extra flavor by crushing some garlic cloves and adding sprigs of thyme. Once the steak is cooked to your desired temperature, fire up the grill and add those beautiful grill marks to achieve maximum flavor. Check out our Whole30 Spicy Steak Chimichurri Recipe and leave your comments below.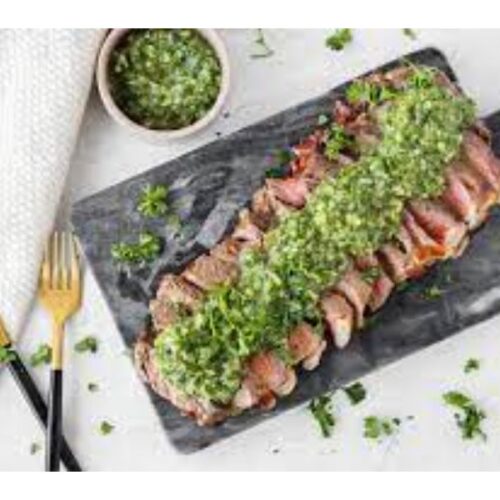 Steak Chimichurri
There is nothing more appetizing than a savory steak, but why not take it to the next level by incorporating a bright layer of flavor that appeals to both your eyes and taste buds? The contrasts in color and balanced ingredients work perfectly in this well-rounded dish.
Ingredients
For the Steak:

3-4

boneless ribeyes or New York strip steaks 8-12 ounces each

salt and pepper to taste

For the Chimichurri:

½

cup

parsley leaves

packed

4

garlic cloves

2

red chili peppers remove seeds

½

cup

extra virgin olive oil

2

tablespoons

red wine vinegar

¼

teaspoon

dried oregano

½

teaspoon

coarse salt less if using finer salt

¼

teaspoon

fresh cracked pepper
Instructions
Prepare the steak

20 minutes prior to cooking, remove steaks from refrigerator and let sit, covered, at room temperature.

Preheat grill or greased cast-iron pan to medium high heat. Liberally season steak with salt and pepper. Move steak to the grill or cast-iron pan and grill until slightly charred (about 4-5 minutes). Flip steaks and grill for another 3-5 minutes until medium-rare (an internal temp of 135°F). Adjust as needed to desired doneness.

Transfer steaks to cutting board and let rest for 5 minutes before slicing.

Prepare the chimichurri

Finely chop parsley leaves, garlic cloves and red chili and place in a small bowl. Add olive oil, red wine vinegar, dried oregano, salt and pepper and stir until well combined. Drizzle over sliced steak.
Notes
Tip: If on a budget or cooking larger batches, lamb, pork chops, chicken or even veggies make great substitutes.