If you're looking for a delicious and easy-to-make salad recipe to add to your meal plan, look no further than this Sesame Soba Noodles Salad. With just a few simple ingredients, you can have a yummy and nutritious salad ready in 20 minutes or less! Read on to learn more about the ingredients and how to prepare Sesame Soba Noodles Salad Recipe To Check In 2023.
Sesame Soba Noodles Salad Recipe To Check In 2023
Soba noodles are a type of Japanese noodle made from buckwheat flour. They are usually thin and grayish-brown in color. Soba noodles are commonly served in a soup or with a dipping sauce, but they can also be used in salads, like this sesame soba noodles salad recipe.
Soba noodles have a nutty flavor and are very versatile. You can find them in most Asian markets or online. If you can't find soba noodles, you can use another type of Asian noodle, such as udon or rice noodles.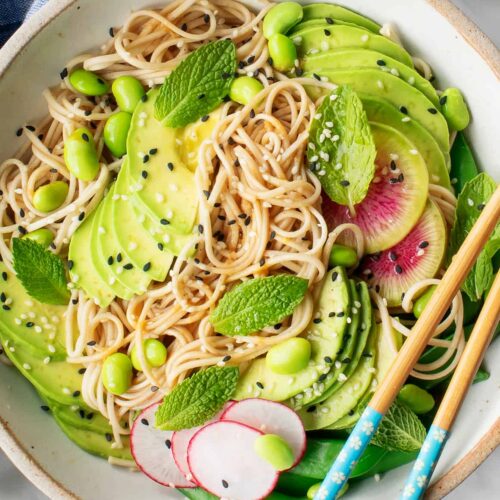 Sesame Soba Noodles Salad
Soba noodles are a traditional Japanese food that is made from buckwheat flour. They are thin and have a nutty flavor that is perfect for salads or light meals. Soba noodles are high in protein and fiber, which makes them a nutritious option for those looking for a
healthy
alternative to
pasta
.
Ingredients
-1 package soba noodles

-1 cucumber

peeled and diced

-1 red pepper

diced

-2 green onions

thinly sliced

-3 tablespoons sesame oil

-3 tablespoons rice vinegar

-2 tablespoons soy sauce

-1 tablespoon honey

-1 clove garlic

minced

-1 teaspoon grated ginger

-1/4 teaspoon crushed red pepper flakes

-3 tablespoons toasted sesame seeds
Instructions
In a large pot of boiling water, cook noodles according to package instructions. Drain and rinse with cold water. In a large bowl, combine cooked noodles, cucumber, red pepper, green onions, sesame oil, rice vinegar, soy sauce, honey, garlic, ginger and red pepper flakes. Toss to combine. Sprinkle with sesame seeds before serving.
Nutritional Information of Soba Noodle Salad
Soba noodles are a type of Japanese noodle made from buckwheat flour. They are usually thin and brown in color, with a slightly nutty flavor. Soba noodles are a good source of protein and fiber, and they contain all eight essential amino acids.
This salad is made with soba noodles, sesame seeds, scallions, and a variety of vegetables. The dressing is a simple mixture of soy sauce, rice vinegar, sesame oil, and chili paste. This salad can be served as a main dish or as a side dish.
Tips for Making the Perfect Soba Noodle Salad
1. Make sure to cook the soba noodles properly – they should be cooked al dente, meaning they should have a slight bite to them. Overcooked soba noodles will turn mushy and will ruin the salad.
2. Dress the salad while the noodles are still warm – this will help the flavors of the dressing meld into the noodles better.
3. Be generous with the dressing – soba noodles can be quite bland on their own, so make sure to dress them generously.
4. Add plenty of toppings – soba noodle salads are all about the toppings! Add whatever you like, from vegetables to chicken or shrimp. Get creative!
5. Don't forget the sesame seeds – they really make this salad special. Make sure to sprinkle them on top before serving.
Conclusion
This sesame soba noodle salad dish is a fantastic way to enjoy a nutritious and delicious meal. The combination of flavors from the sesame, soy sauce, and ginger create an incredible taste that can't be beat. This recipe also makes for a great lunch or dinner option since it's so simple to make yet packed with flavor. We hope this recipe will become one of your favorite dishes. This was all about Sesame Soba Noodles Salad Recipe To Check In 2023.